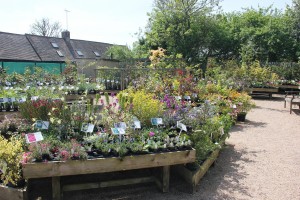 The nursery will open again on Friday 3rd March 2023 and be open every Friday & Saturday 10am-5pm and Sunday & Bank Holiday 10am-5pm until the end of September 2023
OPEN GARDEN FOR THE NATIONAL GARDEN SCHEME
WEDNESDAY 6th SEPTEMBER 11am-4pm
Plants for sun, plants for shade, small plants, tall plants, scented plants, spiky plants, evergreen plants, unusual plants, plants for walls, plants for bogs, plants for clay, plants that sway, pink flowers, green flowers, purple berries, black leaves, yellow stems, all these & more.
 I look forward to seeing you!
The nursery is open every Friday, Saturday (10am-5pm), Sunday (10am-4pm) and Bank Holiday (10am-5pm) from the beginning of March to the end of September
I am happy to open by appointment at other times – call 01708 371719, email tim@thelonghouse.net or use the contact us page to make an appointment
WE NOW HAVE A FACEBOOK PAGE

Please note that we do not send plants to customers by post or delivery service.
Please note that only assistance dogs are welcome in the nursery or garden.